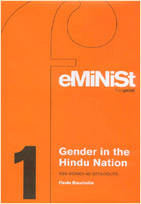 GENDER IN THE HINDU NATION:
RSS WOMEN AS IDEOLOGUES
Paola Bacchetta
Rs 200 Hb 2004
81-88965-02-2
(All rights available)
The three insightful essays in this volume offer a detailed account of women who are active in the Rashtriya Sevika Samiti. It analyses differences in their, and the Rashtriya Swayamsevak Sangh's articulation of the place that women occupy in their ideology, in symbolic space, and in a Hindu Rashtra. Based on carefully researched archival material, secondary sources, including RSS publications and documents, and personal interviews, this is a theoretically sophisticated and empirically rich contribution to an analysis of the nation and the RSS.
PAOLA BACCHETTA

is Associate Professor of Women's Studies at the University of California, Berkeley. She co-edited
Right-Wing Women: From Conservatives to Extremists around the World
(2002), and
Textes du Mouvement Lesbien en France, 1970-2000
("Texts from the French Lesbian Movement, 1970-2000", 2011), and has published on gender, sexuality, Hindu nationalism, political conflict, race, and feminist and queer movements in various journals.