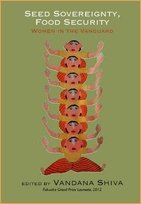 SEED SOVEREIGNTY, FOOD SECURITY:
WOMEN IN
THE VANGUARD
Vandana Shiva (Ed.)
Rs 500 Pb 2015
978-81-88965-89-2
(World English language rights, excluding South Asia, sold.)
This unique, international offering on an issue of critical importance today, demonstrates how women as activists, scientists and scholars are at the forefront of shaping new scientific and economic paradigms to reclaim seed sovereignty and food security across the world. Women in the North and South are leading movements to change both practice and paradigm: how we grow and transform our food. As seed keepers and food producers, as mothers and consumers, they are engaged in renewing a food system that is better aligned with the ecological processes of the earth's renewal, the laws of human rights and social justice and the means through which our bodies stay well and healthy.
VANDANA SHIVA

is a world-renowned environmental thinker and activist, a leader in the International Forum on Globalisation, and of the Slow Food Movement. Director of Navdanya and of the Research Foundation for Science, Technology and Ecology, and a tireless crusader for farmers', peasants' and women's rights, she is the author and editor of a score of influential books on the environment.

Shiva is the recipient of over 20 international awards, among them the Right Livelihood Award (1993); Medal of the Presidency of the Italian Republic (1998); the Horizon 3000 Award (Austria, 2001); Save the World Award (2009); Sydney Peace Prize (2010); Calgary Peace Prize (Canada, 2011); the Thomas Merton Award (2011); and the John Lennon-Yoko Ono Grant for Peace.