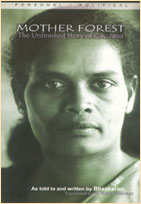 MOTHER FOREST:
THE UNFINISHED STORY OF C.K. JANU
Bhaskaran & C.K. Janu
Translated by N. Ravi Shanker
Rs 75 Pb 2004
81-88965-01-4
(All rights available)
I
n January 2003, tribals 'illegally' occupied a part of the wildlife sanctuary in Mathunga, Kerala. Forcible eviction by the police resulted in the death of one tribal and injuries to others. Leading the tribal resistance was Janu, a young woman who had mobilised their protest at the government's failure to honour their commitment to the tribals: the restoration of land alienated from them for 'development'. Dispossessed of their lands, the adivasis feared they would lose their identity and their livelihood.

In this passionate account of her struggle, Janu speaks of her childhood and her life with Mother Forest, her political awakening as a party worker in the CPM, her growing disillusionment with it, and her break from it after she felt it had betrayed the tribals.

Frank, guileless and deeply moving, Janu's unfinished autobiography is an eloquent testimony to her courage and her convictions.
.
BHASKARAN
has worked as an illustrator with several prominent Malayalam and national dailies. A series of paintings by him inspired by Vaikkom Mohammad Basheer's
Childhood Friend
were exhibited across the country, to critical acclaim. Bhaskaran is a Senior Artist with
The Week.

N. RAVI SHANKER
lives and works in Palakkad, and regularly translates from Malayalam and Tamil into English.