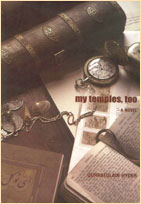 MY TEMPLES, TOO
Qurratulain Hyder
Rs 250 Pb 2004
81-88965-13-8
(Pakistani rights sold. All others available.)
Why do we all find ourselves present in this particular context, in this particular place? How have these pictures assembled here in this jigsaw puzzle? Soon, something will happen, pieces will scatter and become part of a newer patter … this time will pass…

Partition, independence, democracy. My Temples, Too tells the tale of the birth of two new nations, experienced in the lives and deaths of its young citizens. Set in Lucknow of the 1940s, Qurratulain Hyder's masterly early novel is a story of kinship, intimate friendships and love in a context of political upheaval. Rakshanda, Peechu, Kiran, Salim, Christabel the youthful protagonists are idealistic and enthusiastic, fighting for a brave new world. With the turbulence of partition and independence, the quiet rhythms of domesticity are brutally disrupted. New animosities replace old loyalties, and the merry 'Gang' of Lucknow is torn apart as the old order begins to fragment.

My Temples, Too is a cry from the heart for the faded charm of Lucknow, for the essence of India, for what the author calls its 'ganga-jumni' culture—composite, harmonious, gracious.

QURRATULAIN HYDER


is a leading writer of Urdu fiction in India. Her books have been translated into all Indian languages, and she was awarded the Bharatiya Jnanpith, India's highest literary award, in 1989. She has been a Fellow of the Sahitya Akademi, and is widely acclaimed for pioneering novelties of technique in Urdu fiction. She has travelled widely, and has worked as a journalist and broadcaster. Her novel,

Aag ka Darya

(published in 1959, and transcreated by her in English as

The River of Fire

) has achieved epic status in fiction about the subcontinent.