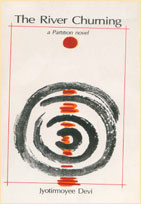 THE RIVER CHURNING:
A PARTITION NOVEL
Jyotirmoyee Devi
Translated by Enakshi Chatterjee
Rs 150 Pb 2005
81-88965-24-3
Noakhali, 1946. In the wake of the first of the pre-Partition communal riots, a young Hindu girl is given shelter by her Muslim neighbours for several months. Her father has been killed, her mother drowns herself in the tank at the back of their house and her sister disappeared. Young Sutara is eventually re-united with her brothers in Calcutta, only to find herself spurned by them and by the taboos of orthodox Brahminism, by whose codes she is forever 'polluted'.
Written in 1947, Jyotirmoyee Devi's novel is a searing commentary on Partition itself, and on history's erasure of women from its annals. It is also a powerful denunciation of patriarchy's hypocritical obsession with women's sexual purity. Sutara's story is the Story of Woman or the Stree Parva (The Woman Chapter) that the author believes has never been written, because all history is recorded by men.

JYOTIRMOYEE DEVI
(b. 1894), a tireless crusador for women's rights, rediscovered the world through her pen. Married at 10, widowed at 26, with six young children, she wrote throughout about marginal and oppressed women. She is the author of several collections of stories, essays and autobiographical writings.

ENAKSHI CHATTERJEE
is a writer, translator and media critic. She has translated a wide range of Bengali novels, short stories and a book of poems. She has written over 30 books. Her book Paramanu Jignasa written jointly with her husband, Dr. Santimay, won the 1974 Rabindra Puraskar from the Government of West Bengal.