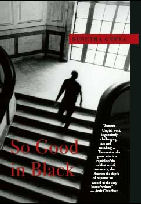 SO GOOOD IN BLACK
A NOVEL
Sunetra Gupta
Rs 350 Pb 2009
81-88965-54-5
(All rights available)
Max Gate, an American travel writer and his once beloved friend, Byron Mallick, a charming and refined Bengali businessman, meet again in extraordinary circumstances on the shores of Bengal.

It is the eve of the transit of Venus in 2004. Byron is facing charges of murdering a crusading journalist, Damini, whose cousin, Ela, haunts Max's being years after their love affair has ended. Ela ricochets between her deep attachment to Byron, her loyalty to her husband and her desperate love for Max. Meanwhile Max's former brother-in-law, Piers O'Reilly, is determined to bring Byron to justice.

Will Max confront Byron and demand the truth about Damini's death? Does he really want to know? ;

As this gripping and intricately layered tale unfolds, all certitudes about love, friendship and morality dissolve into tantalising ambiguity, defying easy resolution. In the end, only the redemptive power of memory seems able to seal the scars of loss and betrayal.
SUNETRA GUPTA
is Professor of Theoretical Epidemiology at Oxford University. She is the author of four novels: the first, Memories of Rain (1992), won the Sahitya Akademi Prize in 1997. The others are:
The Glassblower's Breath (1993); Moonlight into Marzipan (1995); and A Sin of Colour (1999)
It was shortlisted for the Crossword Award and was on the longlist for the Orange Prize in 2000.

.,.. an intensely lyrical prose that fuses time, memory and space, entitling the author to be a young heir to Virginia Woolf
—The Statesman

A literary inclination to appropriate tragic forms but simultaneously a modernist voice that consistently rejects the fatedness of tragedy has characterised the novels of critically acclaimed UK-based writer Sunetra Gupta. So Good in Black is a richly layered narrative of moral and emotional dislocation across time and space which dissolves all notions of static 'truths'.
—The Hindu

Gupta's oeuvre is marked by evocative language and the rich interiority of her characters. She is marvellously skilled at rendering flawed complex characters.
—Outlook