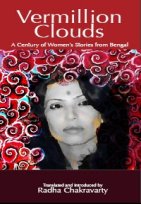 VERMILLION CLOUDS :
A CENTURY OF WOMEN'S STORIES FROM BENGAL
Radha Chakravarty (Ed.&Trs.)
Rs 350 Pb 2010
81-88965-51-0
(All rights available)
Featured here are the best known and significant women writers of Bengal of the last hundred years. Both style and content reveal the extent to which their worlds have changed, subtly and dramatically, even as the writing itself becomes simultaneously, creative and political. This anthology presents an astonishing variety of themes: among others are same-sex love, business entrepreneurship, love outside marriage, and the death of parents. Woman as daughter, wife, sister, mother appears here in her many avatars. This collection maps the bold contours of a broad but uneven terrain, with all the surprises and excitement this promises.
RADHA CHAKRAVARTY
teaches literature at Gargi College, University of Delhi. She is the author of
Feminism and Contemporary Women Writers: Rethinking Subjectivity.
Her books in translation include Bankimchandra's
Kapalkundal;
Tagore's
Chokher Bali; Farewell Song:Shesher Kabita; Gora; Boyhood Days
and
The Land of Cards: Stories, Poems & Plays for Children;
Mahasweta Devi's
In the Name of the Mother: Four Stories,
and the anthology
Crossings: Stories from Bangladesh and India.
She has edited
Bodymaps: Stories by South Asian Women,
and is currently co-editing

The Essential Tagore

for Visva Bharati and Harvard.


[The] imagery is vivid with local colour and dialogues remain tied to Indian rather then imported contexts. Chakravarty succeeds admirably in her translation
—The Tribune


The evolution of women's writing is the story of a civilisation inching towards modernity. Which is what makes this anthology of short stories written by women over a hundred years so interesting.
—Business Standard


.. . a representative collections of women's writings spanning almost a century. Chakravarty has done a good job of rendering the stories into English.
—The Telegraph