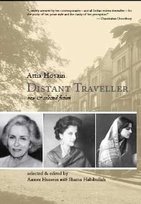 DISTANT TRAVELLER:
NEW & SELECTED FICTION
Attia Hosain

Selected and edited by Aamer Hussein with Shama Habibullah
Rs 350 Pb 2013
81-88965-76-6
(Pakistani rights sold.
All others available)
The accidental discovery of chapters from an unfinished novel and of unpublished short stories, made the publication of this anthology of Attia Hosain's new and selected fiction an inevitability.
Attia's two worlds—Lucknow and London—intersect and mesh in the stories and novel excerpts presented here. The distinctive quality of her prose—subtle, elegant, with an uncanny ear for dialogue and sharp, yet sympathetic observation—is displayed to stunning effect as she delineates the tension and pathos of lives and societies in transition.
ATTIA HOSAIN
was a journalist, broadcaster and writer. She presented her own woman's programme on the BBC Eastern Service for many years and appeared on television and the West End stage. She wrote
Phoenix Fled,
a collection of short stories, and
Sunlight on a Broken Column,
a novel.

AAMER HUSSEIN

has published collections of short stories, criticism, essays, translations from Urdu, and edited a collection of Pakistani short stories,
Kahani.