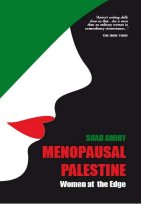 MENOPAUSAL PALESTINE
Women At The Edge
Suad Amiry

Rs 250 Pb 2010
81-88965-59-6
Palestine, menopausal? Can a women's condition called 'change of life' afflict a state-in-the-making? Suad Amiry's wacky, irreverent, unmistakably political account links the state of Palestine to the lives of ten women for whom Palestine—or its absence—was the centrifugal force around which their lives revolved. For 40 years, from the 1967 war till Hamas' victory in 2006, the ten women covered in this book shared a past and unfulfilled dreams and aspirations. With that victory, however, they now mourn the loss of a diverse Arab culture, of secularism and pluralism, and their replacement by what Amiry calls 'local nationalism' and 'global religious fundamentalism'. She recalls the social and political history of Palestine 'through the lives of my PLO women's generation', in what can only be called a personal-political tour de force.
SUAD AMIRY
is an architect, and Founder-Director of RIWAQ: the Centre for Architectural Conservation in Ramallah. Amiry won Italy's prestigious Viareggio-Versilia Prize in 2004, and her first book,
Sharon and My Mother-in-Law
was long-listed for the Lettre Ulysses Award for Reportage. She is the author of
Golda Slept Here
(2014).

Amiry adds dollops of humour and irreverence, and succeeds in publishing an entertaining and insightful book on the lives of women in conflict-ridden Palestine. It is nothing short of brilliant to find to find humour in lives marred with the constant threat of conservative values and death.
—The Book Review


Each story is interesting and colourful on its own, but, stitched together, the result is a poignant, beautiful and powerful narrative.
—The Hindu


There is comedy and farce here.. . and Amiry uses it potential generously though lightly
—Business Standard