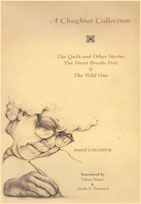 A CHUGHTAI COLLECTION
Ismat Chughtai
Translated by Tahira Naqvi & Syeda S. Hameed
Rs 350 Pb 2003
81-86706-77-1
Here, in a compact new edition, are Ismat Chughtai's best loved stories and two famous novellas, The Heart Breaks Free (Dil ki Duniya) and The Wild One (Ziddi). In translations that capture all her verve, irreverence and wit!

(Ismat Chughtai) was a feminist by instinct, long before it was fashionable to be one, a progressive who knew that literature changed more lives than pamphlets did, a Muslim who worshipped a Shivmurti in Varanasi, palms outstretched, chanting Koranic verses aloud. She took real risks in both life and literature.
—The Times of India
TAHIRA NAQVI
is a translator, writer and Urdu language lecturer at the Department of Middle Eastern and Islamic Studies at New York University. She has translated the works of Sa'dat Hasan Manto, Munshi Premchand, Khadija Mastooor and Ismat Chughtai into English.

SYEDA S. HAMEED
was formerly Member, Planning Commission of India and National Commission for Women. She has edited the four centenary volumes of Maulana Abul Kalam Azad,
India's Maulana;
and translated Hali's
Musaddas.