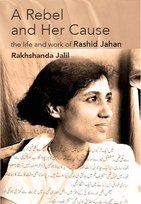 A REBEL AND HER CAUSE:
THE LIFE AND WORK OF RASHID JAHAN
Rakhshanda Jalil

Rs 395 Pb 2014
978-81-88965-86-1
Despite a brief and slender literary career, Rashid Jahan blazed like a meteor in the progressive firmament of pre- and post-independence India. Doctor, writer, political activist, crusading member of the Communist Party of India, Rashid Jahan was radical in a way that defied all expectations—from her social class, her comrades, her peers and colleagues.

In a remarkably perceptive, richly detailed account of this pioneering woman, Rakhshanda Jalil offers readers an unusual document: a warm and informed biography—based on archival material, extensive interviews and critical commentaries—together with fine translations of Rashid Jahan's best known stories and plays.
RAKHSHANDA JALIL
is a writer, critic and literary historian. She is co-author of
Partners in Freedom: Jamia Millia Islamia
and
Journey to the Holy Land: A Pilgrim's Diary.
She is also a well-known translator, with eight published translations of Premchand, Asghar Wajahat, Sa'dat Hasan Manto, Shahryar, Intezar Hussain and Phanishwarnath Renu. She is the author of
Liking Progress, Loving Change
(2014).