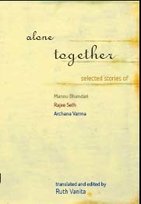 ALONE TOGETHER:

SELECTED STORIES OF MANNU BHANDARI, RAJEE SETH AND ARCHANA VERMA
Ruth Vanita (Ed. & Trs.)

Rs 350 Pb 2013
978-81-88965-80-9
(All rights available)
With an uncanny eye for the nuances of individual situations and strong and evocative styles, these writers give us an insight into the internal lives of characters drawn largely from the Indian Hindi-speaking middle and poorer class. We meet restless and frustrated characters fighting against the demands and hypocrisies of both the conservative and so-called 'liberal' aspects of Indian society. Here the interior monologue is the primary form of expression; loneliness and alienation are dominant, and the personal is the chosen space for the articulation of politics. These are three profoundly existential writers and the stories, masterpieces of psychological realism.
RUTH VANITA
is currently professor at the University of Montana, and was founding co-editor of Manushi. She is the author of several books, including
Gender, Sex and the City: Urdu Rekhti Poetry in India, 1780-1870
and
Gandhi's Tiger and Sita's Smile: Essays on Gender, Culture and Sexuality;
and a well-known translator of fiction and poetry from Hindi to English.