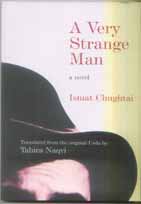 A VERY STRANGE MAN:
A NOVEL
Ismat Chughtai
Translated from the original Urdu by Tahira Naqvi
Rs 250 Pb 2007

81-88965-36-7
(All rights available)
This novel, set in the Bombay film world of the 1940s and' 50s, is the revetting story of Dharam Dev, the famous actor, director and producer, and his all-consuming and doomed passion for Zarina Jamal, the young dancer from Madras whom he brings to Bombay and transforms into a great actress. He looks on in anguish as his betrayed wife, Mangala, a well-known playback singer, sinks slowly into alcoholism. When Zarina abandons him he is overwrought and dies of an overdose, friendless and alone.



A Very Strange Man

is not only a close, personal look at an actor's rise to fame and glory, but an insightful and critical examination of the Bombay film scene of the time, by one who knew it at first hand.

This irreverent, sharply observed narrative is vintage Chughtai!
ISMAT CHUGHTAI
was born in 1915 in Badayun and was the first Muslim woman in India to acquire both a B.A degree and a degree in teaching. She is counted among the earliest and foremost women Urdu writers. She is the author of several collections of short stories, three novellas, a novel,
Terhi Lakir
(The Crooked Line), and
Kaghazi Hai Perahan
(The Paper-thin Garment), a memoir.
TAHIRA NAQVI
is a translator, writer and Urdu language lecturer in the Department of Middle Eastern and Islamic Studies at New York University. She has translated the works of Sa'dat Hasan Manto, Munshi Premchand, Khadija Mastoor, and Ismat Chughtai.