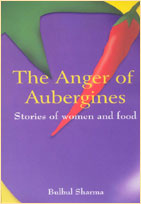 THE ANGER OF AUBERGINES:
STORIES OF WOMEN AND FOOD
Bulbul Sharma
Rs 150 Pb 2005
81-88965-10-3
(French, Australian, Finnish, Italian and Portuguese rights sold. All others available.)
'He's gone with her forever!' she wailed into the phone, twisting the cord in her hands.

'Listen, you idiot, he'll never leave you. They never do. They're afraid of what their mothers will say,' said Mimi. "Come to the health club, you will feel better at once. They are getting a hypnotist again today. You know the chap… Swami something or other. He's incredible. He can train your mind to stop eating. He looks at you for thirty seconds with his great, black eyes, Omar Sharif type, and whoosh!… the desire to eat vanishes. You start thinking of higher things like… you know, poor people, philosophy and all that sort of thing,' said Mimi.

Reshma picked up another burfi and said, 'Does he make you do social work? I don't feel strong enough these days what with this low calorie diet.'

'No… you don't have to do anything. Just close your eyes and think about higher things. Sonia lost five kilos in fifteen days, though her breasts sag a bit now.'
Reshma touched her own heavy bosom, lifting it a little with both hands. 'Yes… yes. I'll come,' she said as she chewed the sweet slowly, letting the sugary softness cling to the corners of her mouth.
The Anger of Aubergines contains stories about women for whom food is an obsession, a passion, a gift of love, a source of power and even a means of revenge. Each of these tales is followed by a favourite recipe to read or, if you are particularly adventurous, to try out.

BULBUL SHARMA,
writer, painter, birdwatcher, maker of woodcuts, is the author of five collections of short stories, including the enormously popular
Now That I'm Fifty.
She has also written books on birds and trees for children. She teaches art to children with special needs.
If you're looking for melodrama and action, passion and mystery… move on. But if you're delighted by the small things in life, everyday oddities and character quirks,…sample a few of these tasty dishes…
—The Little Magazine
Obviously written by a woman of taste… the eternal story of this country's complicated but abiding love for food.
—Outlook