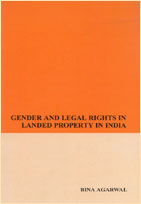 GENDER AND LEGAL RIGHTS IN LANDED PROPERTY IN INDIA
Bina Agarwal
Rs 60 Pb 1999
81-86706-19-4
The single most important economic factor affecting women's situation is the gender gap in command over property, an issue virtually neglected in research, policy and grassroots action. In a detailed discussion of laws governing property and its inheritance, the author argues that women's access to, and control over, landed property is crucial to their empowerment. She defines effective rights as rights in practice, not just in law, and rights of control as independent of male control and ownership.
BINA AGARWAL
is Professor of Economics, Institute of Economic Growth, University of Delhi. She is the author of
A Field of One's Own: Gender and Land Rights in South Asia.