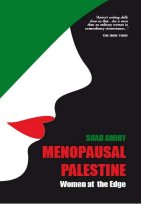 Menopausal Palestine
Suad Amiry brings bad news, but she doesn't just sing despite the news.

She laughs out loud.

Singing is good, but laughing is better.
… Amiry's book intertwine, as experienced in real life, the public and private, the personal and political.
… Palestine or its absence which formed the centrifugal force around which our separate individual lives revolved … slowly interlinked at different times, in different places … ultimately intertwine and intermingle in Ramallah.
—Telegraph,
Kolkata