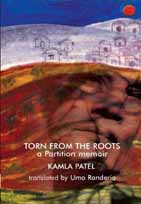 Torn from the Roots :

a Partition memoir
Stories about the atrocities perpetrated upon women and the manifold tortures they lived through are gradually finding an escape route in memoirs and criticism about the Partition. This book is a step forward in this direction. Other than the heart-rending stories of rescue and rehabilitation, Patel's accounts raise a deeper philosophical issue of the use of women's bodies as signs of male triumphalism enacted through the violation and pollution of women. Uma Randeria's fine translation of Kamla Patel's

Mool Sotan Ukhdelan

from Gujarati is indeed a tribute to Mridula Sarabhai and Kamla Patel whose courage in the recovery of abducted women in the aftermath of the Partition is exemplary.
—The Tribune,
June 2006
In Patel's account, sexual love becomes an unlikely power against the formidable force of nationalism and a breath-taking battle ensues. Ultimately, love takes a beating to nationalist forces, but not before demonstrating the fragility and fallibility of the notion of nationalism.
— Telegraph,
14 July, 2006
In fact, the unique value of this memoir derives from the fact that the author is no intellectual, no ideologue, she has no axe to grind, no point to prove…What is significant here is the vulnerability to experience, the ability to remain open to the infinite surprise of living in a manner that mere intellectuals, armoured in critiques of naïve empiricism, should envy, but probably won't. It is a curiously moving spectacle- like learning.
—The Book Review,
, May 2006