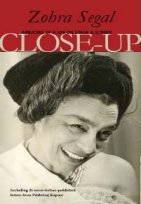 Close-Up

Memoirs of a Life on Stage and Screen
Zohra Segal is the last of our great theatre artists. Believe me, the marvelous weight of pleasure her acting has given us all over the years, ennobles all those clichés about a great star. The kind that responds to something deep inside her, not to the actor she plays opposite, and will always be a pleasure to watch.
—
Mrinal Pande
This is a woman one cannot help but instantly admire …The non-nonsense attitude, the energy, the grit, the independent mindset and sharp intelligence that underly this account of a long, active life spanning close to a hundred years.
— Biblio,
July-August, 2010
Segal is the first to laugh at her peculiar path to fame …She said "I was with Prithvi Theatres for 15 years as the leading lady. No fame, I was in England for 25 years, working with Ben Kingsley, Yul Brynner. No fame. Back in India, I went to a dance performance, no one recognised me. Later, I started acting in films, and there was one movie in which I had to slap Govinda. After that, fame! People used to stop me on the street and say

'Apne Govinda ko thappad maara!

Imagine, after what I'd done with Prithvi Theatres…" Her voice trailed off, then she added, "I have no regrets. It made me a lot of money; my fees went up to five lakh per day after that." Yet before hero-slaps and appearance fees, Segal had led a charmed life for decades, leaping blithely from one historic setting to another, treading the boards with some of the most charismatic actors and dancers of the century. The story of that life is now told in her autobiography Close-Up, published by Women Unlimited.
— Times Out Delhi,
July, 2010