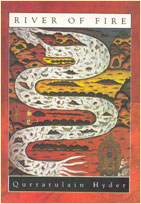 RIVER OF FIRE
Qurratulain Hyder
Rs 300 Pb 2003
81-85107-02-X
(US, Norwegian & Italian rights sold. All others available.)
In the 4th century BC Gautam Nilambar, a final year student at the Forest University of Shravasti, chances upon Hari Shankar, a princeling yearning to be a Buddhist monk. He falls in love with the beautiful, sharp-witted Champak. And thus begins a magnificent tale that flows through Time, through Maghadhan Pataliputra, the Kingdom of Oudh, the British Raj and into a Time of Independence. This fiery river of Time flows along the banks of their lives as they are reborn and recreated, weaving through the twists and turns, the flows and eddies, keeping them together and keeping them apart. The story comes full circle in post-Partition India when Hari Shankar meets his friend Gautam in a grotto in the forest of Shravasti, and mourn the passing of their lives into meaninglessness, their friends who have left for Pakistan, and what remains of their country of which they were once so passionately proud.
Originally published in Urdu in 1959, this novel is easily one of the most discussed in contemporary India and widely acclaimed a literary landmark.

QURRATULAIN HYDER


is a leading writer of Urdu fiction in India. Her books have been translated into all Indian languages, and she was awarded the Bharatiya Jnanpith, India's highest literary award, in 1989. She has been a Fellow of the Sahitya Akademi, and is widely acclaimed for pioneering novelties of technique in Urdu fiction. She has travelled widely, and has worked as a journalist and broadcaster. Her novel,

Aag ka Darya

(published in 1959, and transcreated by the author in English as

The River of Fire

) has achieved epic status in fiction about the subcontinent.
…Hyder has a place alongside her exact contemporaries, Milan Kundera and Gabriel Garcia Marquez, as one of the world's major living writers.
—The London Times Literary Supplement
…predominantly a novel of ideas…it is also filled with lifelike details from the author's truly awesome store of historical information…This powerful, progressive, full-blooded voice needs to be heard in many languages
—Indian Review of Books