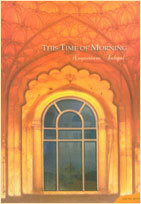 THIS TIME OF MORNING:
A NOVEL
Nayantara Sahgal
Rs 200 Pb 2000
81-86706-28-3
(Pakistani rights sold. All others available.)
This Time of Morning is set in the early post-Independence years, when a new republic eagerly looked forward to a future full of hope. Rakesh, a young foreign service officer who grew up at a time when young men were ardent nationalists, returns to Delhi after a six-year absence to find many changes. He meets the new Adviser on Foreign Affairs, the controversial Kalyan Sinha, and is once again drawn to the magnetic personality of the politician whose ruthless manipulations are, in a way, a precursor of the moral corruption in the years to come.

A rivettingly prescient novel.
NAYANTARA SAHGAL
daughter of Vijayalakshmi Pandit and niece of Jawaharlal Nehru, is best known for her eight novels, her memoir, Prison and Chocolate Cake, and Relationship: Extracts from a Correspondence. Her most recent novel is Lesser Breeds (2003).