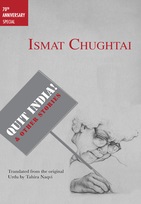 Quit India! & Other Stories

Ismat Chughai

Translated from the original Urdu by Tahira Naqvi
Rs. 300 Pp 143+vi
978-93-85606-13-7
Itís Bapuís birthday today, isnít it? On this day Bharatís son drew his first breath on earth in order to save its inhabitants from slavery. But why this air of gloom that hovers over chawls in Parel and Lal Bagh, as though no one had been born on October 2, rather thousands had died, millions of hopes had turned to ashes?

Bapu belonged to the people, didnít he? Then why has he been appropriated by smugglers? Just as in the old days gods were stolen, he too has been pilfered by people and enclosed in showcases, placed on top of safesÖ used like a stone on the weighing scale of transactions, affixed to boxes of sweets and biscuits, hung over advertisements for shoes. Funds are collected in his name, strikes are called off, controls are removed, and the black-market thrives in his nameÖ

On the 70th anniversary of Independence, a selection of stories from Ismat Chughtaiís formidable body of work, written between 1938-1963, that reflects her insights into the loves and lives, as well as the shared histories and experiences of Hindus and Muslims in India. Witty, yet sharp, affectionate, yet clear-eyed, this is Chughtai at her penetrating best, taking a close look at community dynamics through her personal and social bifocals.
Ismat Chughai
, rebel and iconoclast, controversial and courageous, is one of Urduís most important writers. Feminist by instinct, and long before it was fashionable to be one, she was a progressive who knew that literature changes more lives than political pamphlets can. At a time when women were writing only about how to be a good wife and mother, she set about exposing middle class mores and social hypocrisy, through sharp observation and a rapier-like wit.

Chughtai is the author of dozens of short stories, four novellas, three novels, essays, reminiscences and plays. With her husband, Shahid Lateef, she produced and co-directed six films and produced six more independently.
Translator Bio:
Tahira Naqvi
is a translator, writer and Urdu language lecturer in the Department of Middle Eastern and Islamic Studies at New York University. She has translated the works of Saídat Hasan Manto, Munshi Premchand, Khadija Mastoor and Ismat Chughtai into English.