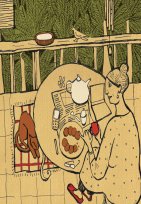 NOW THAT I'M FIFTY
Bulbul Sharma
Rs 250 Pb 2011
81-88965-64-2
(French rights sold. All others available.)
Now That I'm Fifty

is a collection of stories about women at the 50 milestone. Some are looking back, wondering what to do about their spreading behinds, others are getting ready to fly out into the dangerous world, leaving their safe and secure homes. One woman deals with a broken marriage by learning how to salsa, another begins seeing things, while a third finds a new friendship with a stranger in a garden. A holiday in Thailand goes shockingly wrong, a sudden death gives a new lease of life. Ordinary, everyday things are different when you're fifty and time is running out.

Now That I'm Fifty

is about women at fifty, not young but not old, either!
BULBUL SHARMA
writer, painter, birdwatcher, maker of woodcuts, is the author of five collections of short stories, including the enormously popular
The Anger of Aubergines.
She has also written books on birds and trees for children. She teaches art to children with special needs.
;

Sharma's women are interesting, diverse ... meek, tame, intelligent, rebellious and the like ... each women's voyage of self-discovery makes the book, a compilation
—Business Line


Sharma has … a talent for description, a gentle humour and a gift for characterisation
—Indian Review of Books


.. . Sharma's flair for comedy and the delightful ear she has for dialogue
—Biblio